SAn MiGUEL FRASER
San Miguel Fraser is María and Galen, two virtuoso musicians and community builders who tour internationally performing, teaching and celebrating traditional folk music. Together they have created a chamber music style that draws from the innovative US folk trend called "New Acoustic Music" and the roots music of Castile, Spain.
San Miguel Fraser is a project that will always be for the community, joy of music and inspiration. The duo was originally born as a result of the 2020 quarantine with the "Stay At Home Festival". Thanks to the beautiful and universal folk community, they raised over $60,000 with the aim of bringing light to the world, maintaining morale and financially helping musicians around the globe. The "Stay At Home Festival" family lives on today with San Miguel Fraser. 


Profession Trajectory
San Miguel Fraser has an international trajectory, performing and teaching courses in many different concert halls, music cycles and festivals around Europe and the United States. In 2018 María San Miguel and Galen Fraser were selected by the North Atlantic Fiddle Convention, a year later they conducted the California Valley of the Moon orchestra and stand out for their pedagogical work, being special guests of famous training programs in Boston, USA (Pure Dead Brilliant), Sweden (TON Medel-Pads Folkmusikförbund), "Lark Camp" (California, USA), in addition to other nationals at the ESMUC (Escola Superior Música Catalunya) or at the COSCYL (Conservatorio Superior Castilla y Lion).
"

With violins, cittern and voices, the Castilian artist María San Miguel and the composer Galen Fraser, born in California and connected familiarly with Scottish and American folk, go up to the CAT stage for the first time, to present a project which connects them to the traditional music they understand as a social and cultural evolution. "For us the message is to show how we are, all cultures have traumas that have had to be overcome, it is what we have to accept, there are sad aspects but we must also celebrate it to keep moving forward," says the artist , a benchmark in the contemporary development of the new tradition of Castile. The two protagonists have an international projection and have performed in various concert halls, music cycles and festivals in Europe and the USA."
A little bit about María...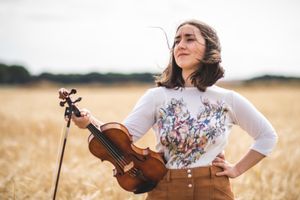 Neo-traditional violinist and a reference in the contemporary development of the new tradition in Castile. María's purpose is to connect society with its roots, through traditional music, for a more prosperous development. She studied violin at the Conservatorio Superior de Salamanca and at the Musikhoch-schule in Detmold (Germany), but her world of inspiration was always folk music, where she has developed several projects such as, "Atlantic Folk Trio", "CastellanAs", " Brigantia " and "Fraser San Miguel"
. 
María is also passionate about the world of teaching. She has been an invited guest at folk music courses in many different countries to transmit the energy and message of Castilian music! 
A little bit about Galen...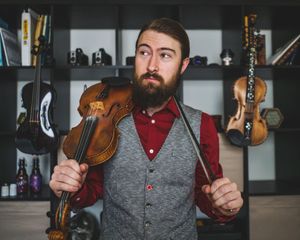 A dreamer and spokesperson for the power of self-expression. Galen is a half-Scottish, half-American graduate of the esteemed contemporary music school, Berklee College of Music. Following in the footsteps of his musical father, he aims to bring people together through thrilling original compositions and a deep sense of community and respect
In 2016, Galen Released his debut album "Mischief Managed" which received high praise from NPR, Strings Magazine and Fiddler Magazine.